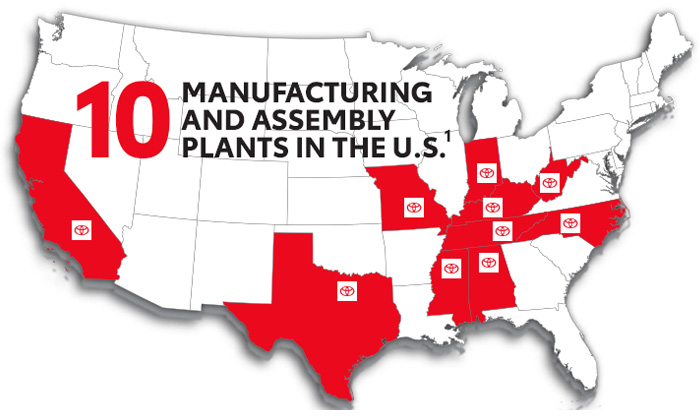 Over 1 Million Vehicles Built Annually in the U.S.A.(2)
Camry, Corolla, Highlander, Sienna Sequoia, Avalon, RAV4 Hybrid, Tacoma, and Tundra
Over 186,000 jobs in the U.S.(3).
$28 Billion of Direct Investment in the U.S.(4).
Data as of December 2019
1. including our joint venture plant in Alabama.
2. Toyota vehicles and components assembled using U.S. and globally sourced parts.
3. Based on Toyota data. Includes direct and dealer employees.
4. As of December 31, 2019
Toyota is Made in the USA (Generic)
Toyota in California
Toyota Motor North America operates a Product Quality Field Office in San Francisco, to provide a direct link between the customer and Toyota's design, quality, and manufacturing organizations, and to enable Toyota to respond to customer issues quickly and effectively. The field office focuses its research on heating, ventilation, air conditioning, and vehicle drivability.

Toyota Info Technology Center (ITC) headquartered in Mountain View, evaluates and develops new technologies to contribute to Toyota's next-generation in-car service and application platforms for improved communications, safety, efficiency, and performance.

Toyota Innovation Hub in San Francisco connects creative individuals and entities to make a difference in future mobility.

Toyota Logistics Services, Inc. (TLS) responsible for finished vehicle logistics in North America. TLS Vehicle Processing Operations manages 13 vehicle delivery centers across the U.S. TLS Vehicle Transportation Operations manages transportation via rail, truck and vessel. There are 33 destination rail ramps, 165 rail routes and 8,416 truck routes. North American produced vehicles are exported from 14 different ports to over 45 countries around the world. In California, TLS manages vehicle distribution centers in Long Beach, San Diego and Benicia. Toyota Transport, Toyota's in-house auto trucking company, operates a terminal office at the BNSF Railroad's Richmond railhead in Benicia, the Union Pacific Railroad's railhead in Mira Loma, and at the Long Beach Vehicle Distribution Center.
Building trucks Texas-tough.
Deep in the heart of our leading-edge San Antonio manufacturing facility, you'll find 2,600 Toyota team members proudly building some of the toughest trucks on the road: Our full-size Tundra and compact Tacoma Pickup. The San Antonio plant is also our first plant to integrate production facilities for many of our suppliers on the same grounds, and some under the same roof. It's truly state-of-the-art. And the Lone Star State deserves nothing less.
Toyota in Missouri
Toyota Financial Services (TFS) has a dealer sales and service office in Creve Coeur which provides financial and insurance products and services to Toyota and Lexus dealers and their customers.

Toyota Motor North America, Inc. operates a regional office and a parts distribution center in Kansas City to coordinate vehicle sales, parts and service for Toyota dealers.
A Small Town With a Big Job
Princeton, Indiana may be small, but to us, it's huge. It's home to Toyota Motor Manufacturing, Indiana, Inc., where 7,296 Toyota team members assemble more than 400,000 vehicles each year, including our rugged Sequoia and Highlander/Highlander Hybrid SUVs, and our popular family minivan: the Sienna. What's more, all across Indiana, thousands more people are employed at our supplier companies, so, all things considered, our investment in Princeton and the state is anything but small: more than $5.817 billion & growing.
Kentucky Pride
Located in Georgetown, Kentucky, you'll find a $8 billion testament to the ingenuity, pride and skill of Kentucky workers. TMMK is the largest Toyota manufacturing facility in the world and Toyota's first wholly-owned vehicle plant in the U.S. Today, TMMK employs more than 8,000 team members on 1,300 acres. As many as 550,000 vehicles a year roll off the lines here, including the Avalon, Avalon Hybrid, Camry, Camry Hybrid and the Lexus ES 350.
Toyota in Tennesee
Toyota Financial Services has a dealer sales and service office in Franklin which provides financial and insurance products and services to Toyota and Lexus dealers and their customers.
Keeping Blue Springs Green, Growing and Working
Toyota Motor Manufacturing, Mississippi, Inc. (TMMMS), Toyota's newest U.S. plant located in Blue Springs, assembles the Corolla. TMMMS is the North American model for promoting sustainable environmental performance. Since opening in 2011, TMMMS and its Mississippi-based suppliers have created nearly 4,000 jobs and invested over $1.4 billion in the state's economy.
Toyota/Mazda Joint Venture Mfg. Plant in Alabama
Construction of a new vehicle assembly plant in Huntsville, AL was announced on January 10, 2018, as part of a joint venture between Toyota and Mazda.  The new manufacturing facility represents a combined investment of $1.6 billion by the two companies.  Once complete, in 2021, it will employ 4,000 production workers and have an annual capacity of 300,000 vehicles.
Welcome to Toyota Motor Manufacturing West Virginia (TMMWV)
Toyota West Virginia is Toyota Motor North America's only plant to build engines, transmissions and hybrid transaxles all under one roof. Our products are built for the Toyota Avalon, Camry, Corolla, Highlander, RAV4, Sienna and Lexus ES and RX350. TMMWV has grown from 300 to nearly 2,000 team members today. Over the past 25 years, it has expanded nine times.
Toyota in North Carolina
TRD, U.S.A., Inc., in Salisbury, supports Toyota's NASCAR and NHRA racing programs with engineering track support and race vehicle engineering, including aerodynamics, vehicle dynamics, and tire and vehicle simulation.