Surpass all expectations.
The 2020 Toyota Camry proves that sensibility, exhilarating performance and heart-stopping style can go hand in hand. You'll immediately notice its sleek, evocative exterior, which seduces the senses with bold contours and a wide stance. Slip inside, and you'll find a welcoming environment that caters to your every whim. Then shift into Drive to discover how Camry is much more than just alluring looks, thanks to three sophisticated powertrains and a next-generation platform that reduces weight and lowers the center of gravity for a sharpened response. And with Toyota Safety SenseTM P (TSS-P) standard on every model, Camry helps protect as well as it comforts. So whatever you desire in a midsize sedan, you'll find it all in one stylish package that pushes all the right limits.
Toyota Camry
3.5 Auto V6 XSE
vs
Nissan Maxima S

Honda Accord 2.0T Touring Auto

Ford Fusion Titanium FWD
Fuel Economy - City (MPG)
22
Fuel Economy - City (MPG)
20
Fuel Economy - Highway (MPG)
32
Fuel Economy - Highway (MPG)
30
Horsepower
301
Horsepower
300
Navigation system
Optional
Navigation system
Not Available
Cargo capacity (cuft)
15.1
Cargo capacity (cuft)
14.3
Front sunroof
Standard
Front sunroof
Not Available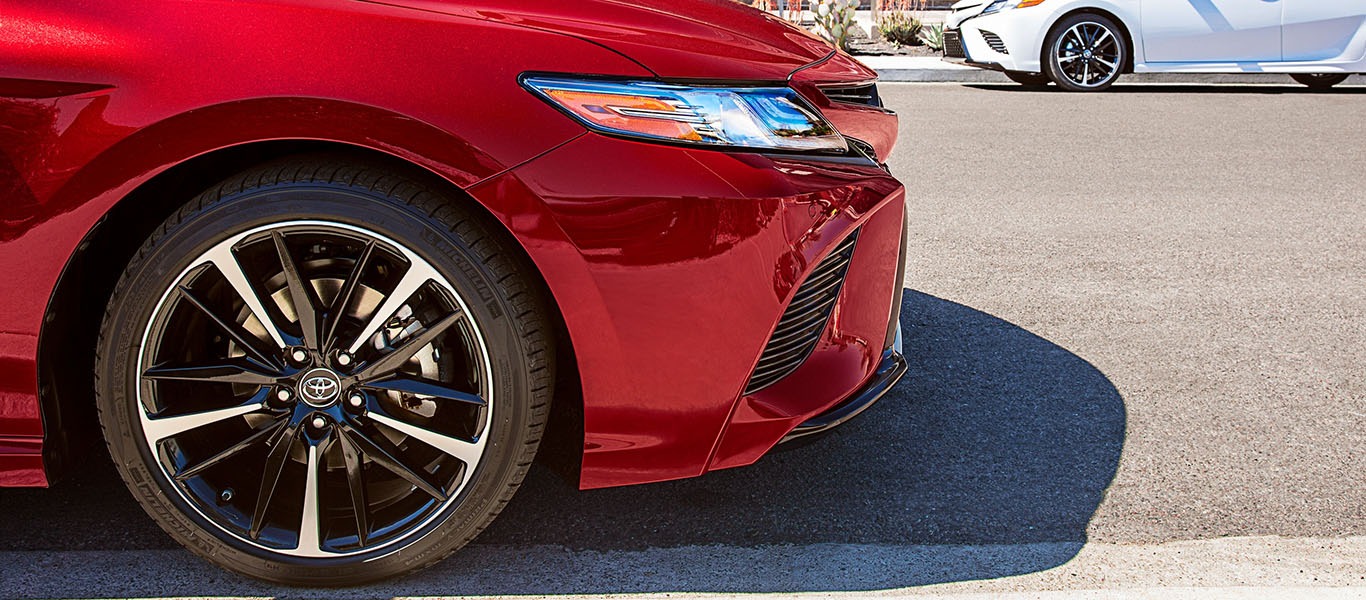 19-in Machined-Finish Alloy Wheels
Add to the allure with the lustrous black hue found on Camry XSE's 19-in. alloy wheels. The deep color dramatically contrasts the exquisite machined finish of the V-shaped spokes. Low-profile 40-series tires complete the distinctive look while providing a precise, confidence-inspiring drive.
Hybrid Performance
The powerful, stylish 2020 Camry Hybrid gives up nothing with its optimized fuel economy, advanced tech and stirring drive. Now with an enhanced 10-year Hybrid Battery Warranty from date of first use, or 150,000 miles, whichever comes first.
The 2020 Camry is DESIGNED FOR SAFETY AND EQUIPPED WITH
Toyota Safety Sense™ P (TSS-P)
Toyota Safety Sense™ P combines an in-vehicle camera and front-grill mounted millimeter-wave radar for enhanced performance and more functionality. In addition to the three active safety technologies featured in the TSS-C package, TSS-P enhances the Pre-Collision System by adding a Pedestrian Detection function, enhances LDA by adding a Steering Assist function on certain models, and adds Dynamic Radar Cruise Control.
Pre-Collision System (PCS) with Pedestrian Detection

Dynamic Radar Cruise Control (DRCC)

Auto High Beams (AHB)

Lane Departure Alert (LDA)
Camry is so much more than a singular sporty vehicle. With a range of models and trim lines, you can choose the perfect Camry to reflect your unique personality and driving habits. Whether your focus is luxury and comfort, convenience and technologically-advanced connectivity, or sporty performance and aggressive styling—we've got the perfect 2020 Camry for you. Select the models, trims, and options that suit you best, and let us build your ideal Camry today. The 2020 Toyota Camry. Let's go places.