Compare 2020 Tundra vs. Silverado
Introduction

Safety

Performance

Reliability

Conclusion
2020 Toyota Tundra vs. Silverado 1500 Head to Head Comparison
Toyota compares important categories like reliability, safety, and performance in a head to head comparison to make it easier to find the car that's right for you.
Assembled in San Antonio, Texas, USA, the 2020 Toyota Tundra entered the market in 2019 alongside its competitor: the 2020 Silverado 1500.
The prices of the base models of the Tundra SR 4x2 Double Cab and the Silverado 1500 WT 2WD Double Cab are similar. However, the Silverado 1500 starts at $33,795 MSRP while the Tundra starts at $33,575 MSRP. The Toyota Tundra is a more affordable option.
As we review additional specs, you'll learn about key advantages in fuel economy and connectivity features including Amazon Alexa, Android Auto™, and Apple CarPlay® integration.
Published Date: 02/20/2020
2020 Toyota Tundra vs. Silverado 1500 Head to Head Comparison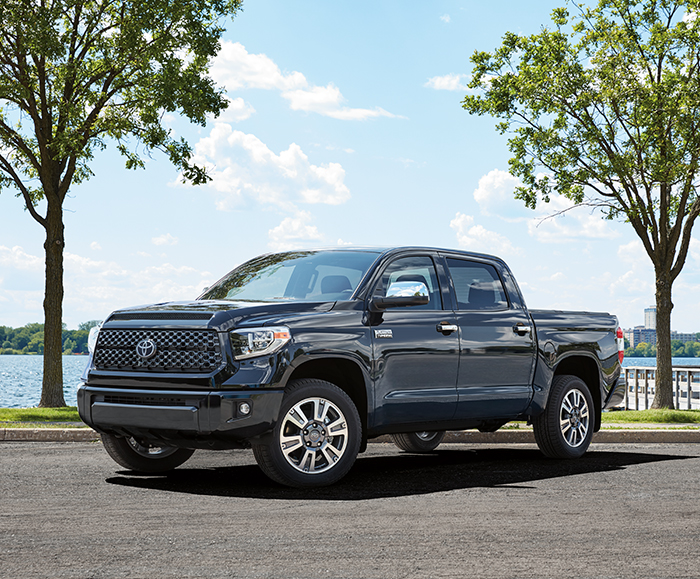 Learn more about Toyota 2020 Tundra:
Vehicle Comparison
subHeading
2019 Toyota Avalon

2020 Toyota Avalon

2020 Toyota Camry

2020 Toyota Sienna

2019 Toyota Tundra

2020 Toyota Tundra

2020 Toyota Corolla Hatchback

2020 Toyota 4Runner

2020 Toyota Tacoma

2020 Toyota C-HR

2020 Toyota Highlander
VS
Vehicle Comparison
subHeading
2019 Toyota Avalon

2020 Toyota Avalon

2020 Toyota Camry

2020 Toyota Sienna

2019 Toyota Tundra

2020 Toyota Tundra

2020 Toyota Corolla Hatchback

2020 Toyota 4Runner

2020 Toyota Tacoma

2020 Toyota C-HR

2020 Toyota Highlander
VS